As developed nations forge ahead with impressive energy transitions and decarbonization efforts, it is crucial not to leave behind countries that are more vulnerable to the impacts of climate change. The issue of debt and cost of capital often hinders the progress of these nations. To achieve global sustainability, it is imperative to prioritize an inclusive energy transition that encompasses all nations. As stated by the International Energy Association (IEA), the energy sector accounts for 75% of global emissions, with emerging markets contributing two-thirds of these emissions. Unfortunately, energy transitions in these markets have been lagging due to limited investment and reliance on fossil fuels. This article delves into the need to prioritize and support energy transitions in emerging markets, emphasizing the importance of climate finance and introducing digital mechanisms as a solution.
Energy Transitions in Emerging Markets
While developed nations are making significant progress in their energy transitions, emerging markets, which constitute two-thirds of the global population, are facing challenges. These markets receive only around one-fifth of global energy investment, impeding their transition to renewable energy. In numbers, this means increasing financing from less than US$150 billion per year as of 2021, to over $1 trillion by 2030 to be on track for Net-Zero goals by 2050. It is crucial to recognize that the cost of renewables is becoming increasingly competitive, but financial constraints and the cost of capital restrict their adoption in emerging markets. To achieve a globally equitable energy transition, it is imperative to allocate resources and help to lower the cost of investing in these markets.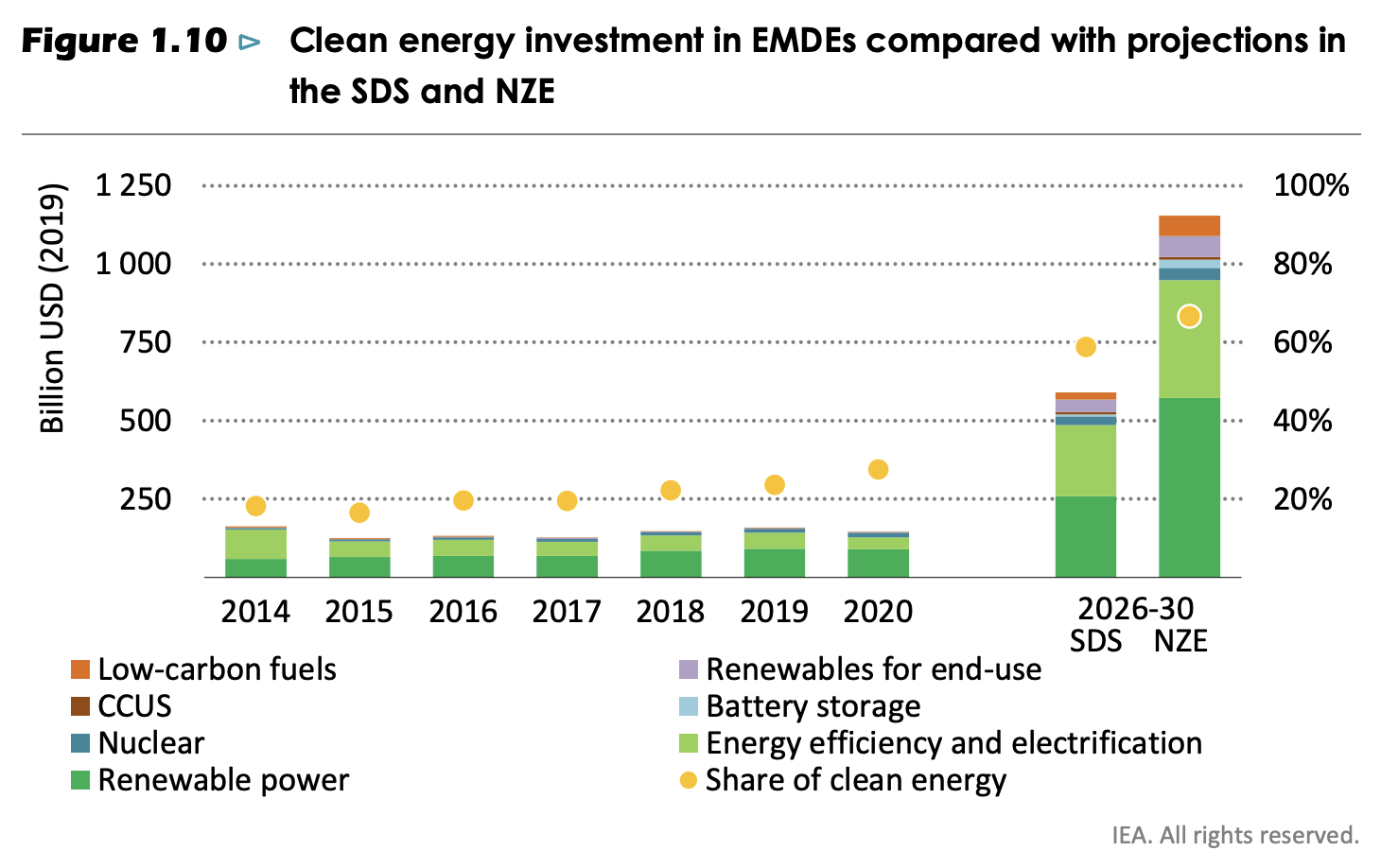 The infographic above from the "Financing Clean Energy Transitions in Emerging and Developing Economies" IEA Report June 2021, details the investment level in emerging markets and developing economies up to 2020, and the projected increase needed under the Sustainable Development Scenario (SDS), and Net-Zero Emissions Scenario (NZE). The levels needs to increase by 4x and 7x accordingly.

The Role of Voluntary Carbon Markets
Currently, media attention and private investment are directed towards carbon removal and sequestration projects in emerging markets. Voluntary carbon markets (VCM) play a vital role in trading and utilizing credits generated by these projects for offset purposes. To scale climate action effectively, VCMs are undergoing much needed improvements to enhance their effectiveness and transparency. While these efforts are commendable, it is important to recognize that similar attention and investment should also be directed towards the energy transition in emerging markets.

In terms of reporting as per the Greenhouse Gas Protocol, carbon offsets from the VCM address Scopes 1 and 3 type emissions, whilst Scope 2 emissions are managed through Renewable Energy Certificates (RECs), or Purchase Power Agreements (PPA), unless a company can source directly. You can learn more on how this pertains to companies in this video.
The Need for Climate Finance Mechanisms
Clean energy project development and building decarbonization, amongst other initiatives, require substantial capital investment. However, existing regulations and frameworks surrounding climate finance mechanisms have not kept pace with global needs, as is usually the case. It is crucial to update these mechanisms to facilitate the flow of capital required for inclusive energy transitions. Prominent institutions such as the Greenhouse Gas Protocol, who set the framework for classifying, reporting and mitigating the various types of emissions, have recognized this need and have been conducting surveys to review and update their frameworks accordingly as of 2022.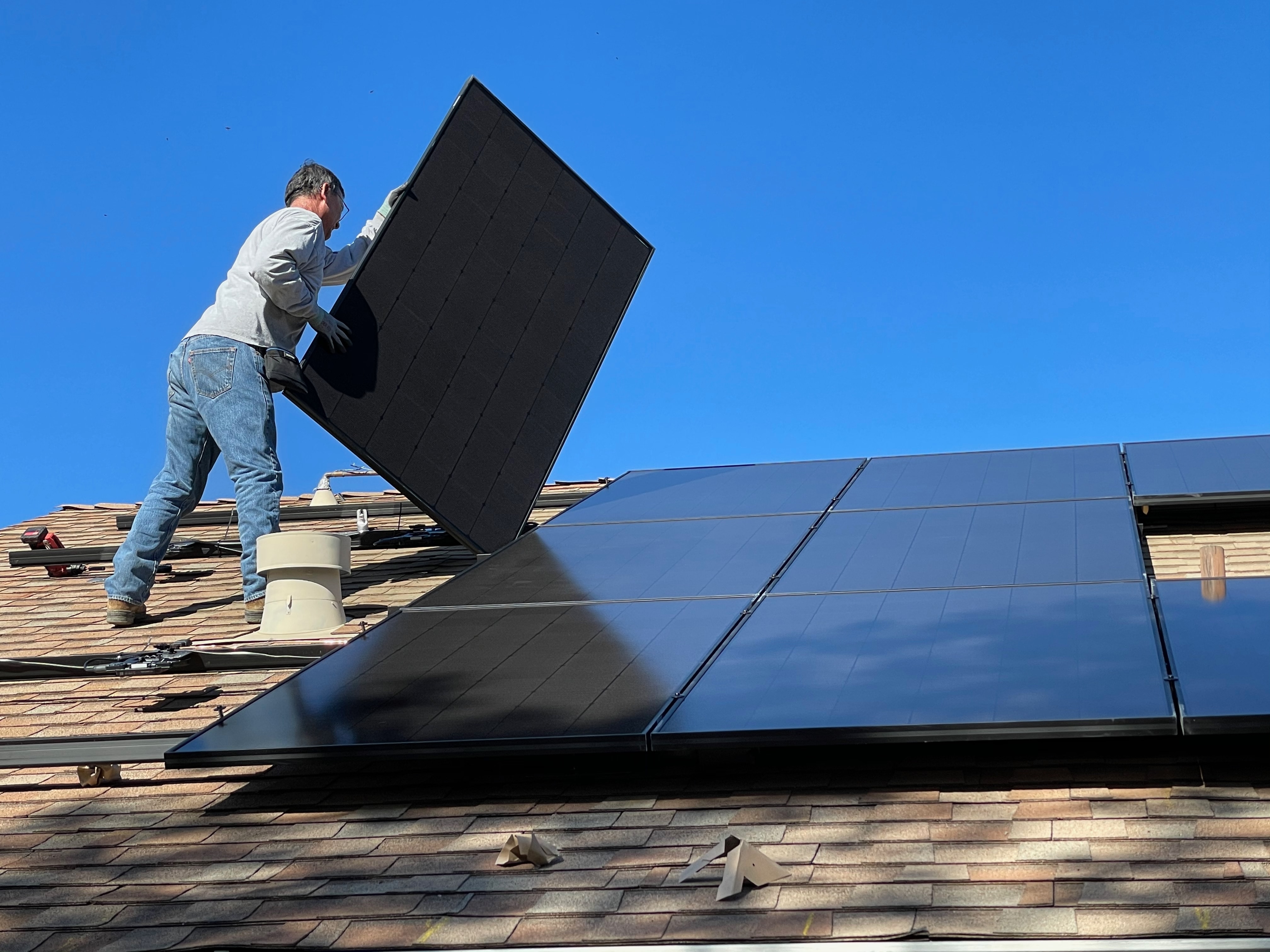 Emerging Technology as an Enabler
Emerging technologies offer solutions to address climate finance challenges, particularly the disparity between high-income and low-income countries in the energy transition. Innovations in measurement, reporting, and verification (MRV) systems are enhancing transparency, while the digitization of legacy environmental instruments, such as digital renewable energy credits (RECs), maximizes efficiency and speed. Recognized global institutions, including the World Economic Forum, have endorsed and recognized the potential of such technologies, as highlighted in their recent report on "Blockchain for Scaling Climate Action" released in April 2023.
Shifting Awareness and Path Forward
There is a growing shift in both public and private awareness towards the importance of financing the energy transition in emerging markets. With available solutions and ongoing refinements, the groundwork is being laid to achieve a globally equitable energy transition. By prioritizing climate finance and supporting emerging technologies, we can ensure that all nations benefit from the transition, making it one of the most impactful steps in mitigating the effects of the climate crisis. As examples, see the upcoming IEA report "Scaling Up Private Sector Financing for Clean Energy Transitions in Emerging Market and Developing Economies" coming out in June 2023, and the recent World Bank report "Scaling Up To Phase Down".
To achieve a sustainable future, it is imperative to prioritize inclusive energy transitions, particularly in emerging markets. Overcoming the financial challenges associated with these transitions is essential. By allocating resources, updating climate finance mechanisms, and leveraging emerging technologies, we can create a globally equal energy transition that benefits everyone. This concerted effort will act as a powerful lever in mitigating the climate crisis and ensuring a more sustainable world for future generations.