The first global stocktake of progress towards the Paris Agreement goals set forth in 2015 is set to take place ahead of COP28 in Dubai this year. In the lead up to this, many international agencies are updating their reports and research to be able to chime in to the most comprehensive "status update" of the progress being made.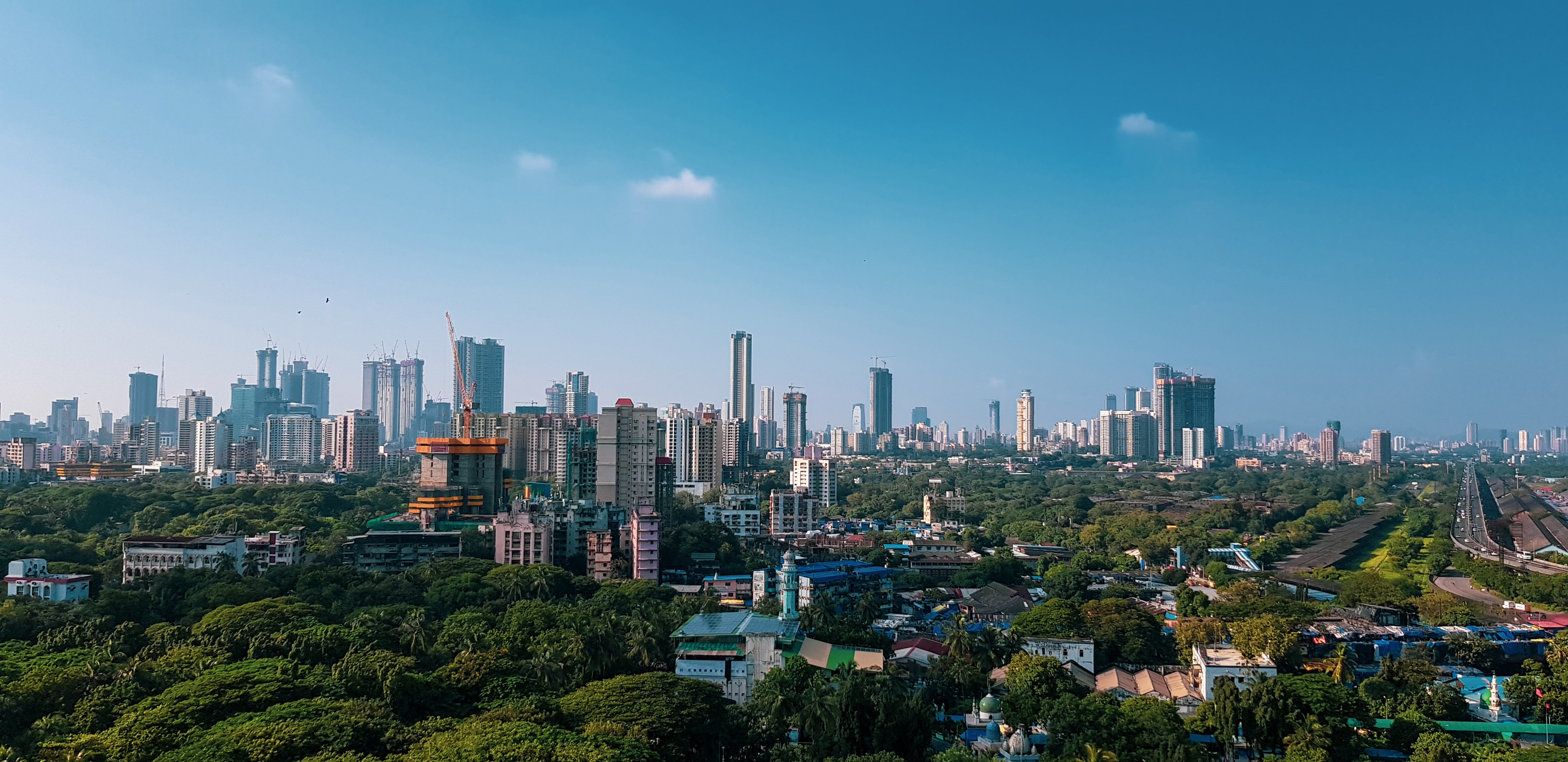 Last week, The International Energy Agency (IEA) released their Renewable Energy Market Update, including outlooks for 2023 and 2024. We look at some of the points relevant to the energy transition in emerging markets, touching on some of the more high-level and global takeaways as well.
The report provides the IEA's latest assessment of the state of play in renewables markets since the publication of the Renewables 2022 report in December. This includes an updated outlook for renewable power capacity additions and biofuel demand for 2023 and 2024.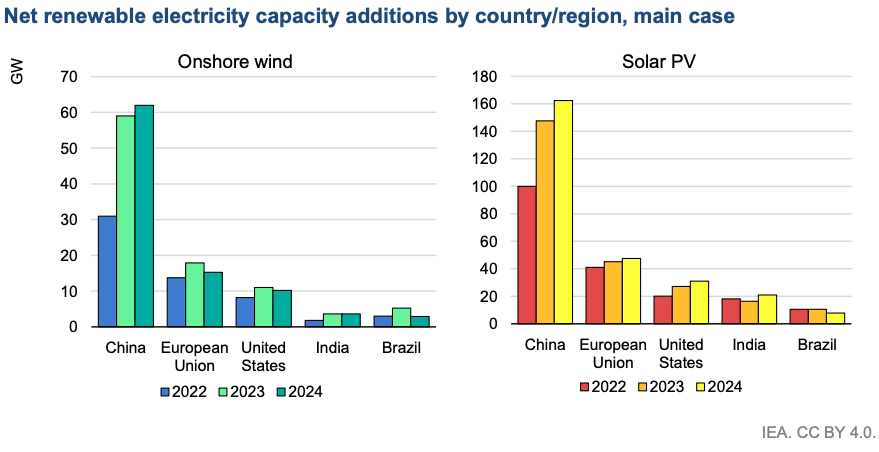 Trends in Emerging Markets
Increasing policy support
Many developing countries have implemented policies and incentives to support the deployment of renewable energy. For example, India has set a target of achieving 450 GW of renewable energy capacity by 2030 and has implemented a range of policies to support this goal, including a national solar mission and a wind energy development program. Similarly, countries in Africa, such as Kenya and Ethiopia, have implemented feed-in tariffs and other policies to support the deployment of renewable energy.
Growing investment
Investment in renewable energy in developing countries has been increasing in recent years. According to the report, investment in renewable energy in developing countries reached a record high of $150 billion in 2021, with a particular focus on solar and wind power. For example, in 2021, Vietnam added 4.5 GW of solar power capacity, while Brazil added 2.7 GW of wind power capacity.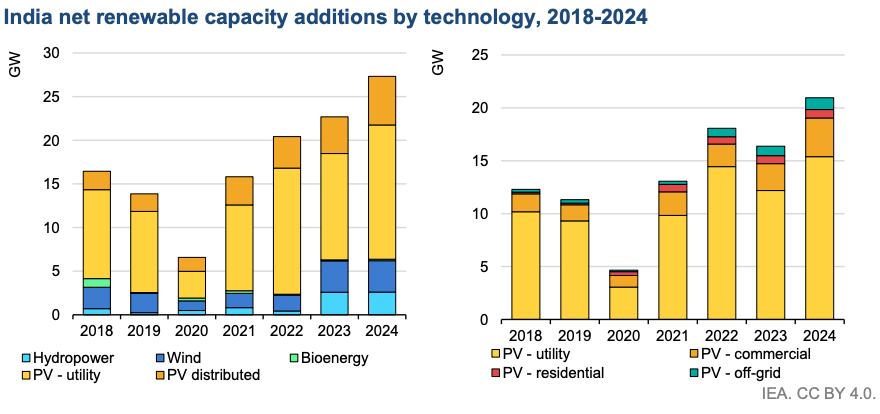 Expanding access to energy 
Renewable energy is seen as a key tool for expanding access to energy in developing countries. The report notes that in sub-Saharan Africa, off-grid renewable energy solutions, such as solar home systems and mini-grids, are providing access to electricity to millions of people who previously had no access to grid electricity at all. In India, the government's Saubhagya scheme aims to provide electricity to all households in the country, with a particular focus on off-grid solutions such as solar home systems. 
Demand for sustainable biofuels
Developing countries are showing increasing interest in sustainable biofuels, leading the demand forecasts. In Brazil, sugarcane-based ethanol is already widely used as a transportation fuel, while in Indonesia, the government has set a target of achieving a 23% share of biofuels in the country's energy mix by 2025.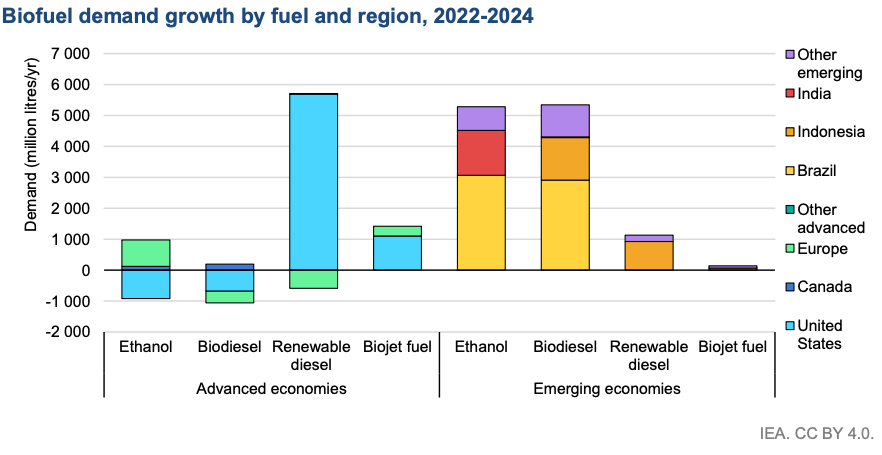 Global Outlook
Zooming out and looking briefly at the macro, renewable power capacity additions are expected to reach 280 GW in 2023 and 290 GW in 2024, with solar and wind accounting for the majority of the growth. Biofuel demand is also expected to increase, driven by policy support and rising demand for sustainable aviation fuel.