Reneum's mission is beautiful in its simplicity. To harness the Polygon network to create a marketplace where anyone - from individuals to corporations - can send money directly to renewable energy worldwide to accelerate the energy transition. Ask any renewable energy producer around the world, and they'll tell you this is exactly what they need to grow. 
In return for helping to power the energy transition, we give you an Eisbaer NFT to prove your action. Eisbaer holders will be the community's backbone and represent the governance structure of the Reneum community.

Why are Reneum and Polygon such a natural fit?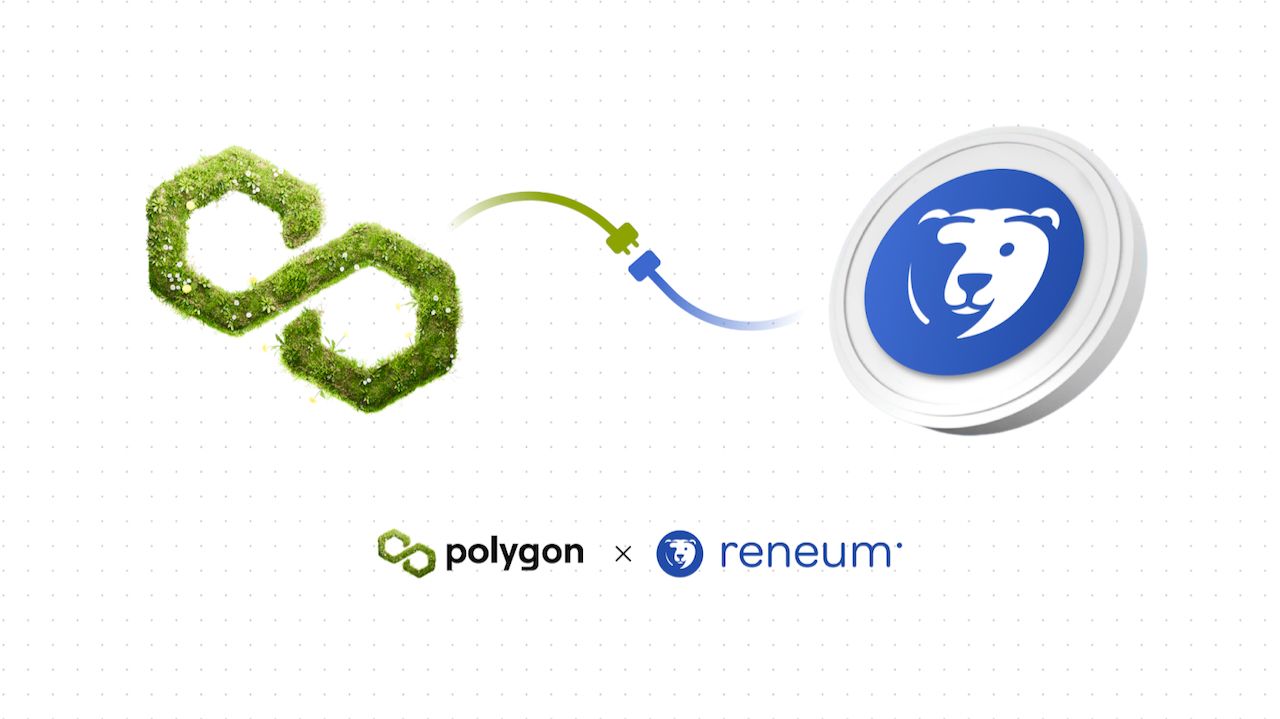 Polygon is a developer's playground, perfect for creating apps that can scale without compromising security. But these aren't the only reasons why Reneum and Polygon are such a natural fit. This article shines a light on all the ways Polygon will help us all at Reneum take direct climate action, for a change. 

When considering which blockchain we wanted to use, we had a wishlist. So when Polygon fulfilled each of these five criteria, we knew we were in the right place to build:
Green credentials

Mainstream adoption potential

Speed and scalability

Low gas fees

Developer friendliness
Brianna on Polygon Pod
In mid-2022, our co-founder and MD Brianna Lee Welsh unveiled the Reneum concept to the Polygon community as a guest on Polygon Pod. There Brianna explained the Reneum concept in depth, articulating why we have no need for doom-mongers and that we can all be climate optimists once again.
Instead of relying on governments to take action, we as individuals now have a way to set the example and blaze a trail. Brianna concluded the presentation with her thoughts about building on Polygon, the role played by Bitcoin and our hopes for the future. Watch the full podcast here!
1. Green Credentials
As an environmental project, our priority was understandably to appraise and mitigate the environmental impact of our platform. Our heads were turned by Polygon's Green Manifesto: A Smart Contract with Planet Earth. 

This document outlines the Polygon core team's commitment to make the network climate positive. It signals the beginning of a focus on sustainability. When taken in isolation, Polygon's carbon footprint is already very small. Thanks to their Proof of Stake consensus mechanism, the network currently generates just 70g of carbon per transaction - that's equivalent to driving about 500m. 
But Polygon's green credentials are just one of several other advantages that makes this network and community a perfect fit for Reneum. 
2. Mainstream Adoption Potential
⁠With mainstream participation our goal, it is vital that we get the user experience right for the Reneum Marketplace. That includes for all platform users - from individuals, families and friends to businesses and other organizations. Not to mention the renewable energy producers themselves. To be a success, the platform must be used.
With serious dollars being transacted on the Reneum Marketplace, which blockchain would be the right fit? Right now, we believe that Polygon answers this question the best. 
With partnerships signed up now with Starbucks, Mercedes, Meta, Behance, Stripe, Twitter, Draftkings, and Wyre, it is clear that Polygon is Leading The Way Towards Capturing The Public's Imagination. 
This boosts our already strong confidence that Polygon will continue its rapid ascent.
3. Speed and Scalability
⁠We wanted it to be easy, fast and cheap for a member of the public or a corporation to send money directly to renewable energy owners listed on the Reneum Marketplace. 

On Polygon, block confirmation rates are a swift 2 seconds, with little cost to centralization. With multiple sidechains catering for millions of transactions per second (tps), this ensures a high level of network throughput. 
Ethereum developers have been so impressed with how Polygon is tackling scalability, they put their plans for sharding (Ethereum's scalability solution) on hold for a year.

We are confident that Polygon will supercharge our mainstream aspirations.
4. Fees
Recent data indicates that average gas fees on the Polygon network currently range from $0.002 to $0.004, which are among the very lowest for all DeFi protocols. 
These low cost transactions will make the Reneum Marketplace an even more appealing proposition for community members. They will know the money they sent isn't being eaten up by unnecessary fees.
5. Developer Friendly
Yet another huge reason why we chose to run Reneum on Polygon is that Ethereum developers can feel right at home. All you need to do is switch to the Polygon RPC and you're ready to be a Polygon developer. 
Tools like Remix, Web3js and Truffle, which can be found on Ethereum, are supported by default on Polygon. 
Since Ethereum is where most blockchain developers can be found, this means we have some of the best talent available to help us with our development work too.
Want to learn more about Polygon? Check this video. 
While you're researching, don't stop there! Take some time to learn more about our mission too. You can click here for our published Manifesto, Litepaper and White Paper.
If you have any questions, there is no better place to drop by than the Reneum Discord. We have plenty of activities going on and opportunities to demonstrate your skills and help the community grow.. 
We would love to hear from all Polygon community members! If you're new to crypto communities generally, you are also very welcome to come and say hi. You picked the very best place to start taking direct climate action, for a change!
Come and help us make financial instruments financially instrumental today!