In addition to working with renewable energy developers directly, Reneum partners with entities as affiliates that help finance the energy transition in markets that have obstacles to access additional revenue streams. This case study highlights a partnership with an affiliate in Latin America that works with some of the biggest developers in the region.
About FSR Block Capital
FSR Block Capital is a technology company with more than 7 years of experience in the renewable energy market. Having been through all the stages of development in the market, FSR identified from their own experience the main shortcomings in the regions they operate in: "Inefficiency in project financing mechanisms".
At theend of 2019, FSR BLOCK CAPITAL was unable to access financing to build a solar park because of the volatility of energy prices in the region. Faced with this scenario, they began to investigate and evaluate alternatives that would make the project profitable. This led them to get in touch with Reneum. 
Realizing that most companies operating in the region face the same problem, FSR now
supports Reneum as an affiliate in Latin America. Today they participate by introducing renewable energy producers to Reneum's marketplace, with the aim of promoting investment in the sector and accelerating the energy transition.
FSR managed to acquire Grupo Latinoamericana de Energía to participate in the MVP of Reneum's platform with its three operating renewable energy generation plants in Argentina.
Currently, FSR is a key partner to provide support throughout the education process on this new technology and approach with the biggest players in the renewable energy market in Argentina.
FSR Objectives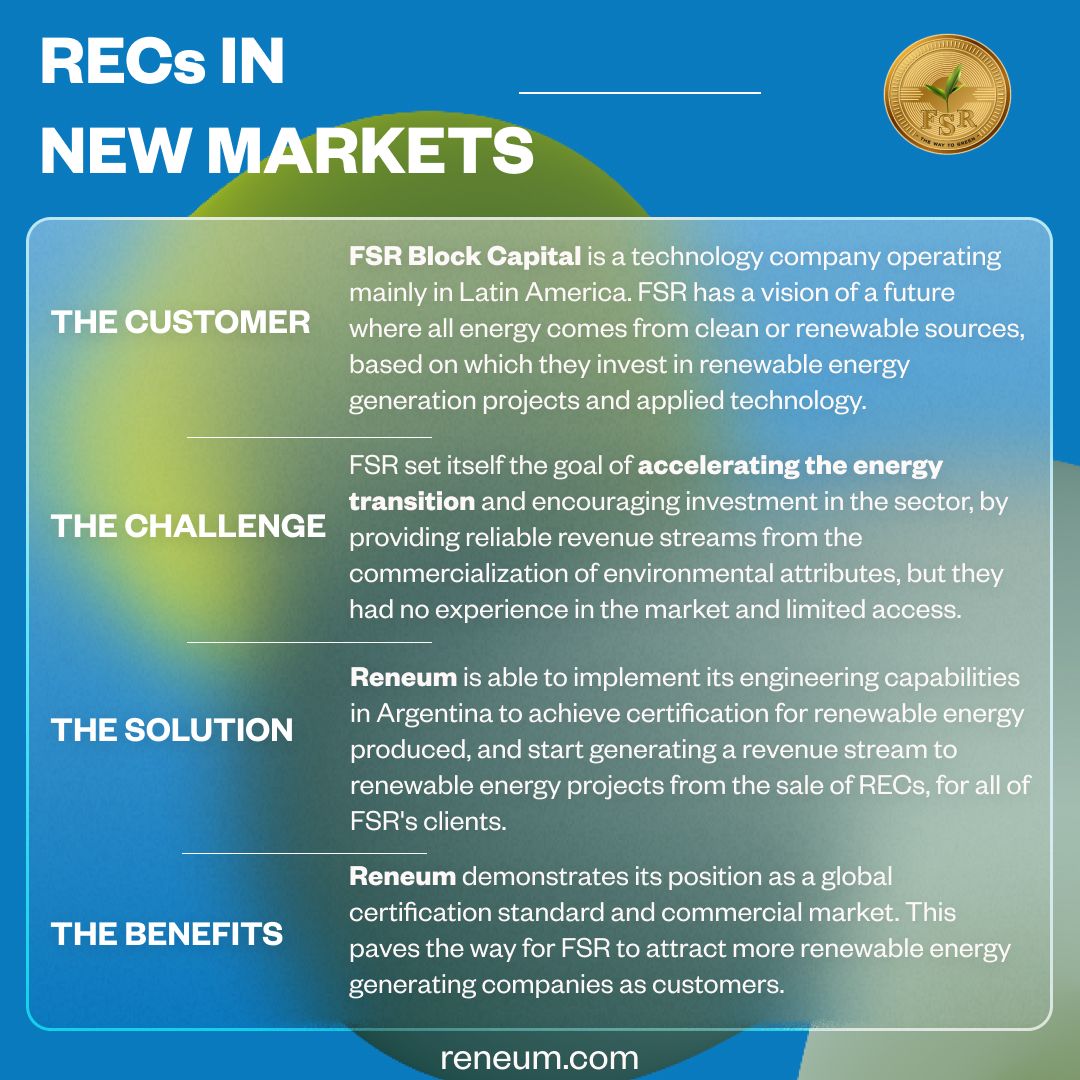 Strategic partner:
FSR Block Capital is a technology company operating mainly in Latin America, providing services specialized in the fields of blockchain, digital signatures, service consulting, software development and data technology. FSR has a vision of a future where all energy comes from clean or renewable sources, based on which they invest in renewable energy generation projects and applied technology, that allows the sector to generate revenues for its commitment to the planet.
The Challenge:
By participating as an investor in the development of renewable energy projects, FSR experienced the limited access to environmental markets in the regions in which it operates. FSR set itself the goal of accelerating the energy transition and encouraging investment in the sector by providing renewable energy developers with reliable revenue streams from the commercialization of environmental attributes, but they had no experience in the market. They needed access to both a verifying agent and a market in which to transact, for all of their clients in Argentina.
The Solution:
Reneum, being a global RECs certification and trading platform, is able to implement its engineering capabilities in Argentina to educate all of FSR's clients on market opportunities to achieve certification for renewable energy produced and start generating a revenue stream for renewable energy projects from the sale of RECs.
The Benefits:
Reneum , by issuing RECs in Argentina for all FSR clients, demonstrates its proposition as a global certification standard and commercial market. This paved the way for FSR to attract more renewable energy generating companies as customers.
Here is what FSR Block Capital has to say about Reneum: