A key part of Reneum's mission and vision is to create a global market for renewable energy attributes, specifically RECs, as financial instruments to help add new revenue streams for renewable energy providers around the globe. Many developers and producers do not have access to the markets or services needed to unlock the potential funding available through RECs, especially in emerging markets where financing is needed the most. 
This case study highlights an example of that scenario with Catalyst Investment Management, an early partner of Reneum that operates in the MENA region.
About Catalyst Investment Management
Catalyst's fourteen years of experience in the renewable energy and energy efficiency sectors in the MENA region make it a highly reputable leader for the clean energy transition in the region. It's been difficult for renewable energy to be competitive, given the low price of conventional energy sources in the Middle East and North Africa region. As a result, renewable energy credits can allow for lower prices for the renewable energy consumer, thus allowing for an increase in renewable energy projects.
Catalyst learned about the opportunity to participate in environmental commodities markets like carbon offsets and RECs, but upon further investigation, learned that there was very limited infrastructure available for them to register, attain certification, and earn material revenues through transactions. The market had not reached Jordan or Egypt at this point.
Catalyst Objectives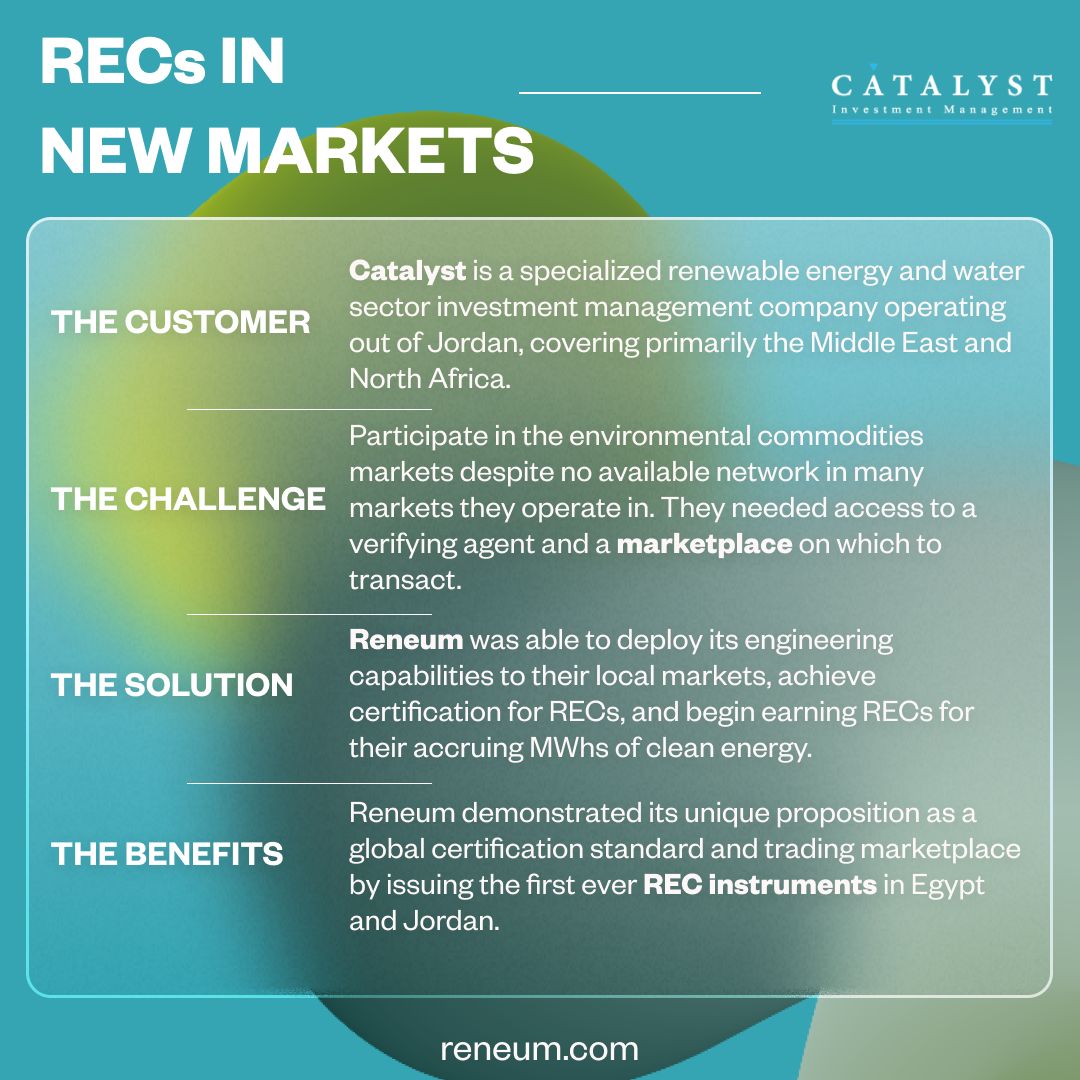 The Customer:
Catalyst is a specialized energy and water sector investment management company operating out of Jordan, covering primarily the Middle East and North Africa. Their goal is to help create, invest in, and grow a world-class base of renewable energy projects and value-added companies that primarily supply clean energy to MENA markets, as well as achieve positive strategic and financial impact on the region.
The Challenge:
Catalyst wanted to participate in the environmental commodities markets despite there being no official network to facilitate this activity in many markets they operate in. They wanted to certify their portfolio of utility-scale solar power sites with environmental assets for the first time, but had no experience in the market nor understanding of how to commercialize them. They needed access to both a verifying agent as well as a marketplace on which to transact.
The Solution:
Being a global platform, Reneum was able to deploy its engineering capabilities to its local markets, focusing initially on Jordan and Egypt, to educate them on the market opportunities, achieve certification for Renewable Energy Certificates (RECs), and begin earning for their accruing MWhs of clean energy.
The Benefits:
Reneum demonstrated its unique proposition as a global certification standard and trading marketplace by issuing the first ever REC instruments in Egypt and Jordan. This paved the way for subsequent market participants and peer companies to begin earning through this revenue stream for the first time.
Here is what Catalyst Investment Management has to say about Reneum: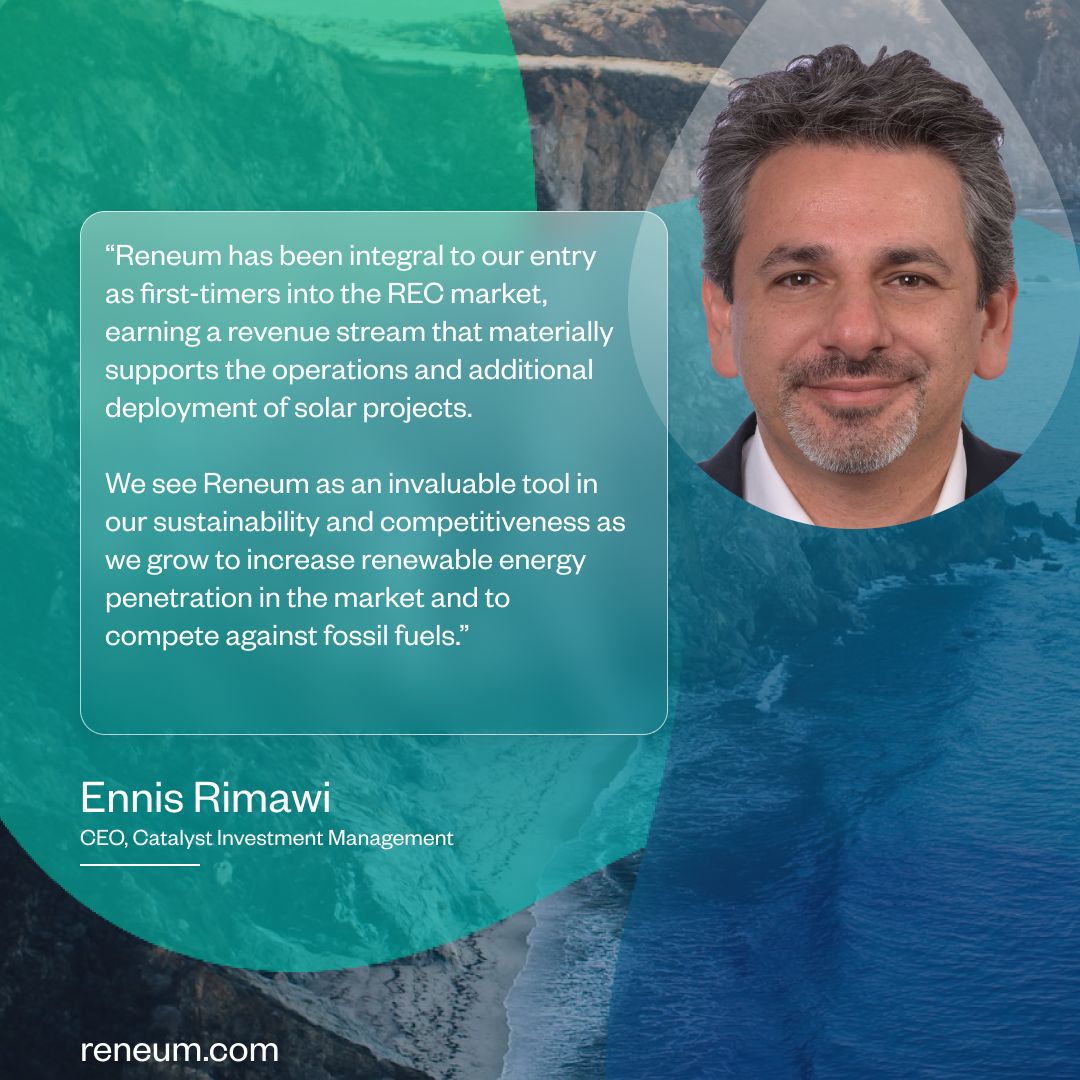 Reneum, "Catalyst CEO Testimonial,"  December 2022
Partnering with Reneum
Catalyst was introduced to Reneum as the first global REC issuer and trading marketplace and applied for verification under the Reneum RENW standard. Reneum conducted a verification process in accordance with internationally accepted best practices and guidelines based on the RE100 and the European regulatory framework for Energy Attribute Certificates (also known as RECs), earning Catalyst certification for the first time for their projects - Eagle Karak and Eagle Taibeh in Jordan and SP Energy in Egypt.
Reneum has identified a local buyer who is specifically looking for RECs from the MENA region and is willing to commit to 5-year forward contracts at a price of US$5/MWh (REC). This partnership would not have been possible via legacy REC markets, as no local facility has been established in Jordan, where Catalyst is headquartered. The outcome for Catalyst is an established market price for RECs, which allows them to propose new renewable energy projects at lower tariffs, knowing that there will be a price of at least US$5/MWh for the project's RECs. This will allow for a greater expansion of renewables in the energy mix. Thanks to the RENW sales, Catalyst can have better-operating cash flows.
Catalyst also has relationships with many power producers in the region and is now supporting, as a regional affiliate for Reneum, third-party renewable energy producers in the region to join Reneum's marketplace so they can also earn an additional source of revenue from RECs for the first time.
Because Reneum's RECs are purchased by companies and individuals across the globe to demonstrate voluntary commitments, the outcome proves that Reneum is creating the first truly liquid global REC market, without territorial restrictions for RECs on both the supply and demand side. 
The Reneum Team